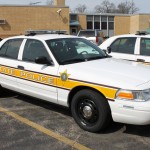 Illinois State Police have released preliminary details on an incident that left one motorist dead on I-74 by Galesburg.On Saturday a 2007 Black Dodge Ram Pickup left the roadway, rolled over and struck a tree at 12:29 in the afternoon.
ISP says the driver died as a result of the injuries he sustained.
The scene was blocked near where I-74 intersects with Route 34 for about two hours but the scene is now clear.
The name of the driver is being withheld at this time pending notification of the family.