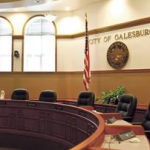 The Galesburg city council could approve bids tonight for renovation work at Bunker Links as well as bids for parking lot signage. 
Four golf tee complexes have been selected for renovations over this year. 
The bid submitted by Larry Denton Golf Course Construction and Renovation was in the amount of $6,340.
In addition the council could approve a resolution for two separate construction projects that will be funded by the Motor Fuel Tax fund, one for reconstruction of Whitesboro, the other for the replacement of the Farnham street bridge.
The council will also consider the approval for the use of Lake Storey Park for Heritage Days coming up in August, as well as amendments of the development ordinance in regards to off-premise signs.
Galesburg's city council is scheduled to meet at 6:30 tonight.