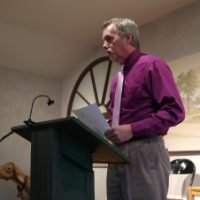 The Executive Director of the Galesburg-Area Convention and Visitors Bureau has resigned his post.
Bill Morris declined to be interviewed, but tells WGIL he is moving on to another challenge to be determined, after resigning from the post as of June 30th.
Morris has been Tourism Director for the Chamber of Commerce since 2013. Chamber Executive Director Jessica Linder also declined to be interviewed, but says she will be interim tourism director until the position is filled, with the hiring process starting in the coming weeks.
Just a few months ago, Morris gave up his involvement with the downtown "Café in the Park" initiative citing his responsibilities as tourism director. Café in the Park isn't being held this year owing in part to Morris' departure and pending improvements to the Park Plaza area.
Morris' departure comes as a new tourism master plan is to be developed.