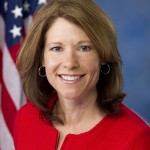 Congresswoman Cheri Bustos of the 17th district yesterday was named Chair of Heartland Engagement for the Democratic Congressional Campaign Committee.
As the Chair, Bustos will work to boost efforts to build the DCCC's infrastructure and help spread Democrat's economic message to heartland voters.
New Mexico Representative and Chairman of the DCCC, Ben Ray Lujan, called Bustos "a key member of our leadership team and her efforts to help recruit and mentor candidates and carry our economic message is critical to our strategy this cycle."
Representative Bustos saying on the position that she looks "forward to helping lead our efforts to build a lasting partnership with the hardworking men and women of America's heartland."
Democrats have seen a number of losses over recent years, especially outside of urban centers. Bustos herself understands the importance of America's heartland.
In a statement she said "The heartland is critical to winning back the majority and we must do a better job listening to the hardworking families from small towns and rural communities if we hope to earn their support."
The 17th district, which includes Galesburg, the Illinois side of the Quad Cities, and Rockford; as well as heavily rural counties like Mercer, Hederson, and Warren.