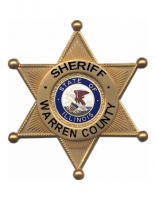 The Warren County's Sheriff's office is looking for information into a residential burglary that occurred north of Greenbush on June 18th.
An unknown number of individuals entered a home and took multiple items including cash, electronics and credit/debit cards.
The investigation revealed that the stolen debit/credit cards were used at a Casey's General Store at West Avenue in Burlington Iowa on the same day.
The sheriff's office is asking for assistance in identifying the man.
Contact the Warren County Dispatch at 309-734-8383, or Warren County Crime Stoppers at 734-9363 with any information.