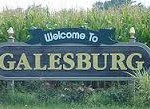 The City of Galesburg Planning Department has been seeking a lot of input from the public lately.
Those full of opinions have another chance to give city leaders and the firm doing the city's Master Plan an earful on perceived issues and needs in the community.
A pair of workshops are being held next week both in council chambers at City Hall.
Community members are being invited to City Hall Council Chambers on Tuesday at 7:30 p.m. to give their take on what priorities the city should adopt as they look to grow and develop.
The Comprehensive Plan is being put together with the help of Houseal Lavigne Associates, the same firm assisting with the Parks and Rec Masterplan, and can be thought of as a blueprint for the city's development over the next decade or two.
Once the process is complete there will be a set of policies that direct future growth and development. Gaining public input through these forums and other means including online surveys are crucial to ensure that the plan reflects citizens needs and desires.
But first they hope to understand what the community thinks are areas that need improvement and what positive areas could see growth.
There will be a separate master plan workshop the next day at 7:30 a.m., also in council chambers, that one for business leaders. Anyone who owns or manages a business in Galesburg is invited to give their input.
A city press release says that these individuals have particularly unique perspectives to market and development issues.