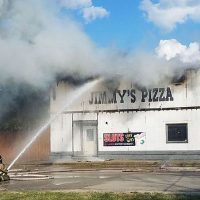 Multiple area fire crews responded to a blaze at a popular eatery in Wataga.
A fire at Jimmy's Pizza broke out before 5pm Tuesday, and eyewitnesses say they were evacuated quickly when smoke was first discovered.  At one points, flames could be seen shooting out the top of the restaurant, and there's word that part of the roof and ceiling collapsed.  Fire personnel were on the scene fighting the blaze for over three hours.
Because of Wataga's limited water supply, firefighters deployed portable pools to keep the supply up and filled by various fire tankers that were arriving on the scene. Water was being brought in from Oneida, Henderson and the city limits of Galesburg.
Firefighters attacked the fire from the east and west, while also using a lift and bucket to attack it from above.
Oneida-Wataga Fire Chief Dustin Steck said that once firefighters arrived on scene they established their water supply. A team of firefighters entered the building to make an initial knockdown. They realized at that point the fire was too far along so they took a defensive position to save the structures to the north and south of Jimmy's Pizza.
Crews from Galesburg, Knoxville, Rio, Henderson Township, Victoria-Copley, Galva, Altona, Bishop Hill responded to the call. Knox County Sheriff's Departement along with Altona-Oneida-Wataga Ambulance were on the scene as well. Steck said that without their help, they would lost the whole block if it wasn't for those departments helping us out.
There were no injuries. The cause of the fire will be determined by a state fire marshal.
One Wataga village trustee WGIL talked with said he had dinner reservations at Jimmy's Tuesday night, and didn't believe it at first when he got a call saying the restaurant was on fire, even going as far as to laugh thinking it was a joke.  Others on the scene say they're "heartbroken" by what they were seeing.