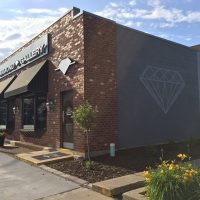 Kohl's Diamond Gallery cut the ribbon yesterday on their new shop at 370 E. Simmons Street, after moving from Seminary street at the end of last year.
They'll be holding special Grand Reopening celebration starting at noon today to commemorate the move, including giveaways and refreshments.
Jeff Kohl, owner of Kohl's Diamond Gallery, says there are even some new features of the new store including custom designed pieces that customers will really like.
"We're getting in a custom shop. Ryan's all excited about this because he'll be able to sit down with you at the diamond counter," Kohl says. "We'll have a monitor sitting there and you can tell him what you want and he's punching it in on the monitor and he's building the ring right in front of you."
Kohl tells WGIL that this move gives the Diamond Gallery 3000 square feet, which is over four times larger than their first store which was only 700 square feet.
He also says that they've brought in some new lines to help fill that extra space including Rarest Rainbow, who will be in attendance for the reopening celebrations.