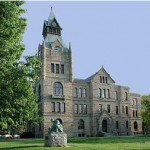 Members of the Knox County Board could be appointing members to the county's 708 Mental Health Board tonight.
The 708 mental health referendum that was passed in the municipal election that took place last month would see the creation of a volunteer board to help oversee the counties mental health needs.
KCCDD CEO Mark Rudolph told WGIL that members of the 708 board most likely would not be professionals in the mental health field.
"Because no member can be directly affiliated with a funded or potentially funded agency that really reduces the pool of applicants because all the people who are doing it every day aren't eligible to serve," Rudolph says.
The county board will also be approving the hiring of new landfill administrator to take over for Jerry Reynolds who retired earlier this month.
Additionally, the board will be considering the appointment of former state representative and current Assistant Director of Illinois Department of Agriculture Don Moffit as a Knoxville Fire Protection District Trustee.