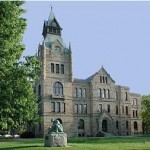 Two Galesburg men face felony charges after a gun was found in a car over the weekend.
Knox County Circuit Court records indicate 23-year-old Terron Ray faces two felony counts of Aggravated Unlawful Use of a Weapon, while 57-year-old Mearon Diggins — Ray's uncle — faces a charge of Obstruction of Justice — also a felony.
Police and prosecutors say Ray was involved in an incident on McKnight Street, then drove to Diggins' West South Street home and handed the keys to his uncle so that police wouldn't search the vehicle.
A search warrant, police say, was later obtained, and a gun was found in the glove box of Ray's vehicle.
Ray is jailed on 100-thousand dollars bond. Diggins' bond is half that. Both will be back in court Wednesday.