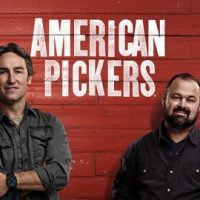 American Pickers, a documentary series where hosts Mike Wolfe and Frank Fritz explore the world of antique "picking", is returning to film in the Land of Lincoln in June. 
The reality show features Wolfe and Fritz exploring the back roads and countryside looking for unique collections and interesting stories behind them.
In a press release from Cineflix Productions, a collaborator with A&E Productions on producing American Pickers, the crew is hitting the road and looking for remarkable and exceptional items with historical significance. 
Cineflix has an open call for private collectors who'd like to share their antiques, and let the pickers spend the better part of a day looking for hidden treasures.
Contact Cineflix by email at: american-pickers-at-cineflix-dot-com or call 855-OLD-RUST or 855-653-7878.
They're interested in the name, phone number, and location of the owner of a collection and description or photos of the collection.