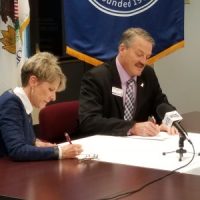 Carl Sandburg College has signed a new articulation transfer agreement with a historic college from central Illinois.
CSC's President Dr. Lori Sundburg, in a ceremony today, announced the Accelerated Bridge to Education or "ABE" transfer agreement with Lincoln College.
Dr. David Gerlach, President of Lincoln College talked about how the transfer agreement could benefit students who have fallen by the way side.
During the ceremony, Gerlach said,  "the pathway is so very important. So many students can be deferred — life happens — they get moved aside — their plans change. And as much as possible providing those opportunities up front are absolutely critical."
The ABE program is limited to adults with the minimum age of 23, the point is to move students at a pace that benefits the students.
Gerlach says many of the classes are hands on with eight and five week classes are available.