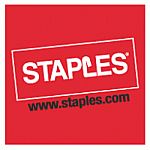 Not long after it was learned through real estate transactions that the building housing Staples off North Henderson Street was being sold, the retailer is closing the local store.
A Staples corporate spokeswoman confirms to WGIL via e-mail that the Galesburg office supply store will be closing July 8th. The retailer has closed a number of stores within the last year, and the spokesperson says in part that online shopping is to blame.
No word on specifically how many employees are being impacted, but the spokeswoman says the closest stores remaining open are in Davenport and Burlington, Iowa, and there are locations in the Peoria area as well.
There's also no official word on what will become of the building, purchased by a Florida developer last month.  A spokesperson for Planet Fitness confirms to WGIL that, despite rumors to the contrary, they have no plans at this time to open up a location in Galesburg.  Some had speculated that Planet Fitness could take over the Staples building.
Statement from Kaleigh Sands, corporate spokeswoman, Staples:
"We continually evaluate our store performance to ensure we're operating the business in the best way. As customers shift online, we are taking aggressive action to right-size our retail footprint. We are committed to providing great service and every product businesses need whether it's in-store, online or through mobile.
"Our customers in this area can continue to shop with us at our Burlington and Davenport, IA locations and online at Staples.com."