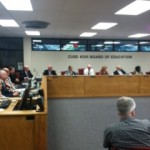 Last night the committee assigned with evaluating the block schedule presented an abbreviated summary of their findings at the special meeting of the District 205 school board.
Dr. Peter Flynn who lead the volunteer committee gave the highlights of the block study, saying "the overall graduation rate over the last five years has increased at the high school from 83% to more than 88%."
Dr. Flynn says graduation for African-Americans is up to 88 percent, while Latino students has increased significantly to 90 percent.
Flynn also said the drop out rate when the block schedule went into effect was 6 percent, it has now dropped to 2.1 percent.
Dr. Peter Flynn also spoke of the surveys conducted to faculty, students, and parents.
78 of 88 teachers filled out the survey with positive results toward the block schedule, "they either agree or strongly agree that they're able to teach essential skills, vary their strategies and activities, give individual attention, and that they feel the block schedule is effective for teaching and learning."
About half of the student body filled out the surveys which suggested that the block schedule was successful, and that students' concerns were being adequately addressed.
Flynn said only 252 parents responded to the survey with mixed results.