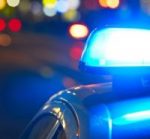 A Galesburg man is the second person to be charged in about as many weeks for causing a crash in the construction zone on North Seminary Street, despite clear signs and barricades stating the road is closed.
Galesburg Police reports indicate officers arrested 25-year-old Ryan Osgood for charges including Driving Under the Influence of Drugs, and Reckless Driving.
The incident happened before 10 o'clock Monday morning. Eyewitnesses say they saw Osgood's truck approach the construction zone, drive into a Cottage Hospital parking lot, hit a barracade at one end of the parking lot, and then attempt to go into the parking lot for Midwest Uniform Store nearby. Problem is, the two parking lots are separated by what is described as a steep hill.
Police say the D-U-I charge came after Osgood provided a urine sample to police.
Osgood will be back in court, records say, May 31st. Another man faces charges for allegedly going through the construction zone and hitting a dump truck almost two weeks ago.