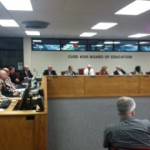 There will be one last meeting for outgoing members of the District 205 school board tonight but it will be a consequential one.
On the agenda for tonight's meeting includes approving the contract of 205's next superintendent.
The two finalists are Farmington Central Superintendent John Asplund and Knoxville Superintendent Steve Wilder.
A number of shifts are taking place in district personnel, including moving several veteran elementary teachers into title positions.
There also could be approval of Luan Statham and Debbie Cratty as new special education coordinators for the district now that Galesburg will not be a part of Knox-Warren Special Ed co-op next year.
Cratty will coordinate services for K-5 and Statham for 6-12 with Dr. Dawn Michaud acting as administrator.
After this business is taken care of a board reorganization meeting will take place, which will include the seating of new members Vicki Banks, Rod Scherpe and Maury Lyon.
They will then set about electing a board president and vice president.