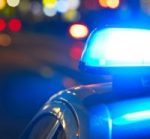 An Abingdon man just released from prison in December after serving time on felony drug charges, now faces felony charges in two separate cases filed against him in the last two months.
Abingdon Police Chief Ken Jones says 27-year-old Ricky Niswonger was arrested Sunday on a warrant charging him with Reckless Discharge of a Firearm, and Possession of a Firearm by a Felon.
Niswonger, Jones says, allegedly fired at someone he was chasing down the street in the area of the three hundred block of East Martin Street on Easter Sunday.
Court records indicate that Niswonger faces methamphetamine possession charges in a separate case filed in March — months after he was released from prison in a meth case.
While Niswonger posted bond in the new case, he remains jailed because of a parole violation. He'll be back in court May 31st.