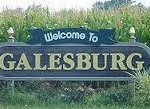 Galesburg's unemployment rate fell to 5.5 percent in March marking three months in a row that it has declined and showing the lowest rate in nearly two years.That makes three months in a row the unemployment rate for the city has dropped.
It's also a percentage and a half drop lower than March of last year and the lowest it's been since April 2015.
The rates provided are not seasonally adjusted.
The numbers from the U.S. Department of Labor and Bureau of Labor Statistics say Galesburg added 125 nonfarm jobs over this time last year.
Leisure and hospitality industries gained 300 jobs, wholesale and trade another 100 with educational health services seeing the biggest fall, taking 200 off the payrolls.
The unemployment rate identifies those who are out of work or looking for work.
Illinois as a whole had a March unemployment rate of 4.9 percent.
Most metropolitan areas and cities saw drops in their unemployment rate but Galesburg's was notable for having a steeper unemployment rate decline than the cities of Bloomington, Normal, Pekin, and Peoria and Danville.