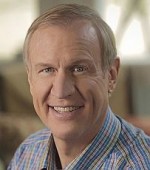 Governor Bruce Rauner remains optimistic that Illinois will get a balanced budget in the near future, and applauds Senate Democrats as an example of bipartisan effort.
Governor Rauner was traveling between the Quad Cities and Peoria giving speeches on the state budget issues.
He spoke on the Galesburg Evening News yesterday were he sited the support of citizens, on both sides of the aisle, who wanted to see term limits, redistricting reform, property tax freezes, and regulatory relief, saying "People want it, and that's the reason I'm optimistic. I know in the end we'll prevail, because what the people want – eventually happens."
Governor Rauner says that career politicians don't respond to the will of the people as much as they should, but he still believes that the state will get there.
He also called education one of the most important things the state does, saying "I ran for governor to have the best education system, the best schools in America, in every neighborhood, in every community."