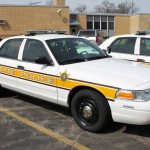 A two vehicle crash in McDonough County left both drivers with injuries on Sunday morning.
79-year old Rose Dodd was airlifted to Blessing Hospital in Quincy and 39-year old Travis Bartell was taken by ambulance to McDonough District Hospital.
Dodd was driving a 2004 Buick north bound on County Road 750E and Bartell was west bound on IL Route 336 when they met at the intersection of 750E.
State Police say that Dodd struck the passenger side of Bartell's vehicle causing both vehicles to enter a ditch and land upright.
Dodd was cited for Failure to Yield for Right of Way.
Four children were passengers were Bartell, all between ages 9 and 13.
The juveniles had minor injuries.
Assisting on the scene McDonough County Sheriff's Office, Colchester Fire and Macomb Police Department.