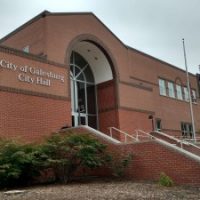 Galesburg City Council tonight will consider approving a two-year option for Kit Wilcox to purchase two city-owned properties at 465 and 473 Mulberry Street.
The city purchased these properties in 2008 with the intention of redeveloping them for commercial use.
Council documents read that City Administration has worked with Wilcox, who is representing a group interested in turning these parcels into a boutique hotel.
The price of the option is only $1 with the option to purchase at $10.
To execute the option within the two year-period Wilcox will have to show that he's submitted the site to be designated as a historical landmark, have cost estimates from an architect, a proposed business as well as proof of financing.
Also Central Congregational Church is seeking a redeveloper's agreement with the city.
The church has about 1,000 sq. ft of roofing that has deteriorated to the point that water is entering the building.
The total cost of repair is estimated at about $20,000 and the proposal is for the project to be financed with owner's equity and TIF funds to fill in gaps.