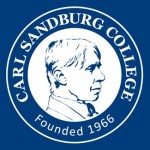 Bringing a story to life on the stage is no easy task to begin with but it's all the more of a feat to both write and direct, all while teaching, but that's what Susan Sharp has done.
Sharp is an assistant professor of theatre at Carl Sandburg College.
Thursday through Saturday her show "If" will be playing in the Fine Arts Theatre on campus, with a cast of students that hail from the area.
The story is of a reporter who investigates the identity of a reader's birth parents and ends up finding own birth parents.
Sharp says its more of a story of finding the importance of friendship and sense of self but there's a twist when the main character does find out who his father is.
Sharp has directed several shows a year at Sandburg and other places for years and says there's a difference between directing a show that you've written and one you haven't.
"I think I'm very conscious about timing, when does a character come to something or how do they react," Sharp says "Timing becomes something I'm very sensitive to."
Erin Clark-Benedict with Lutheran Social Services will be part of a post-show discussion on themes related to adoption.
Sharp says she likes to have post-show discussion, particularly when shows are historical or issue oriented.