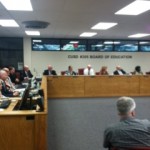 District 205 is getting closer to finding their next superintendent and will be holding a public forum in the effort of finding one.
205 Board President Bob Lindstrom told WGIL after the Monday's board meeting that five candidates were interviewed last week, with another one was scheduled for this week.
The board intends to choose three finalists from the pack of six.
On Tuesday April 18th, the Illinois Association of School Boards will be conducting a public forum to evaluate the candidates for the district's next Superintendent and residents within the district are encouraged to attend, and input is welcome.
The special meeting is set to begin at 5:45 p.m. at Lombard Middle School, and running till about 9 p.m.
Lombard is located at 1220 East Knox Street here in Galesburg.