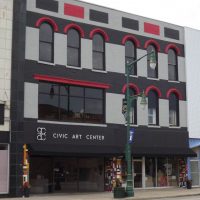 The Galesburg Civic Art Center has announced that Executive Director Tuesday Çetin will be stepping down from her position to join her husband in Florida and continue working as a nonprofit management consultant.
Çetin joined the Art Center in 2014 after previously holding positions at MOCA Jacksonville, a nonprofit center of Northeast Florida, and Brown Dog Creative.
Since being appointed Executive Director, the Art Center has increased it's programming and community outreach, expanding their focus on programming with the hiring of Lauren Riggs as part time Program Coordinator.
The Art Center has also enjoyed a period of financial sustainability as well as establishing an endowment with the Galesburg Community Foundation.
The board of directors have already formed a search committee to find her replacement.
During the interim period, Çetin will continue to act as Executive Director with support from Riggs and volunteers who will be taking on additional tasks at the Art Center.