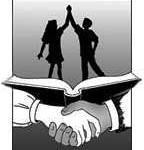 In a five-way race for two open seats on the district 205 board, candidates Vicki Banks and Rod Scherpe won yesterday with a combined 53.65% of the vote.
Both Banks and Scherpe were backed by a majority of Galesburg Education Association members.
Banks won about 28% of votes with over twenty-two-hundred votes, while Scherpe came in with about 25% of the total votes with just under two-thousand.
Gay Johnson finished in third, not far behind Scherpe with about 23% of the vote.
Isaiah Harlan and Kole Kenan finished fourth and fifth respectively.
Maury Lyon secured his seat on the board as was running uncontested for the seat outside of the Galesburg Township.
Banks, a former teacher, was a supporter of looking for alternative funding to help with the school's budget woes, as well as establishing a better rapport between the teachers union and the school board.
Scherpe, who has served on Parent-Teacher-Organizations for Silas Willard and Cooke, as well as treasurer for the Galesburg Athletic Booster Club, wanted to foster a better relationship between the school board and teachers while also evaluating the four-block system.