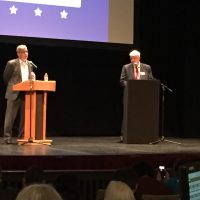 The voters of Galesburg will go to the polls tomorrow to elect the city's next mayor.
The race puts a pair of businessmen, incumbent John Pritchard and challenger Walt McAllister, head to head.
Pritchard has frequently conveyed how initiatives under his administration have helped create a "pathway to the middle class".
Parts of this pathway are the Galesburg Promise program allowing qualifying Galesburg students to attend Carl Sandburg College for little cost, as well as new advanced manufacturing courses at Sandburg and the high school to fulfill an industry in need of skilled workers. 
But McAllister says that the city has grown "stagnant" and "divisive" under the current city leadership.
On his campaign website he says the "poor, young, disenfranchised and hungry" are being neglected and to aid, McAllister suggests building things like a community center, a teen center, community kitchen or a homeless shelter.
Pritchard, who owns Galesburg Broadcasting which WGIL is a part of, says the mayor should be someone who works to bring different people and ideas together.
"The mayor's job is really one of leadership," Pritchard says. "You're the leader of the council, you're the leader in the community, you're the official that represents the city externally to other places and organizations. I need to spend a lot more time listening than I do talking."
Polls open at 6 a.m. on Tuesday.