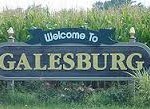 Galesburg residents turned out to vote on Thursday and Friday on what park structure upgrades they'd like to receive at the Debbie Klapp, Custer, Rogers, and Bateman parks. 
The upgrades will be paid for in part by a $125,000 Illinois Park and Recreation Association grant awarded in January, the other matching part will be paid for by the city with approval from the Galesburg City Council. 
Due to the design of the grant, all the playgrounds must be completed by June.
Galesburg Parks and Rec director Tony Oligney-Estill says plans are mostly finalized with Klingner & Associates of Galesburg doing the ground work and putting in the bid specs for the contractor to put in the equipment. 
With no improvements made in well over a decade, community members voted on which structures they wanted to see in their respective parks with the hope of creating unique designs
"We did try to make sure the playgrounds are different from each other, although two parks picked the same style of climbing structure so there will be three unique playgrounds in the four total parks," Oligney-Estill says.
New playground equipment includes a zip-line at Bateman park, and multi-person tire swings of various sizes.
Director Oligney-Estill says that the plan is to eventually get to all the playgrounds in the community and renovate them, but this task may take several years.