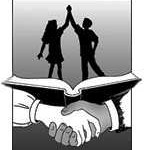 In keeping with the cuts from earlier in the month, the District 205 school board approved five RIFS to Knox-Warren special education faculty and one for Galesburg CUSD last night.
Nearly all RIF votes came with unanimous approvals. 
Summer 2017 Health Life Safety items were voted on last night as well.
Midwest Service Group's winning bid for asbestos removal from GHS was approved for $95,075.
The bid for removal and replacement of asbestos floor tile at GHS was won by Crawford's Home Furnishings for $52,000.
Superintendent Ralph Grimm reminds that the district is only on the third year of their ten year Health Life Safety plan.
"We still have approximately $21.5-22 million in Health Life Safety work," Grimm says. "We have not, by any means, just kicked the can down the road.  We've been very selective in the projects we've brought to (the board) to do."
Approval was also given to start seeking bids for roof replacement at the Lincoln Center, and utility tunnel work at GHS.