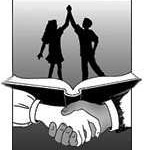 The District 205 School Board tonight will consider another six Reduction in Forces after approving 14 last month.
Most that could get notices tonight are believed to special education staff.
Five of those are professional licensed educators.
Building repairs will also be a recurring theme as members will take action to abate asbestos and replace the removed tile.
This work is a part of their 10 year Health Life Safety plan which they are mandated to do to maintain student and staff safety.
Also an overview will be given of the next school year's building improvement plans.
One item of discussion came at the suggestion of board candidate, Vicki Banks.
After suggesting the board video record meetings to be made available to the public during public comments last month, the board will discuss doing so.