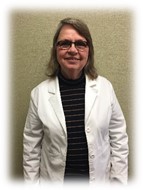 Renee Elmer has been hired to oversee medical, dental and behavioral health providers at the Knox County Health Center. 
Elmer brings with her 25 years of experience in the medical field, graduating from the University of Illinois-Chicago with an MS in Public Health Nursing and is a certified Family Nurse Practitioner.
County health administrator Michele Gabriele says that Elmer is a great fit for them.
Her special areas of interest are adult health and chronic disease management.
Elmer says she's honored to be joining a team that "respects the value of each individual who comes through" their doors.
The Health Center provides medical, dental and behavioral health services to those who are uninsured or underinsured.
The health center's Director of Wellness and Health Promotion Erin Olson says the center is currently accepting new patients.
Call the center to set up an appointment.