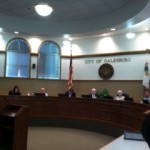 Galesburg City Council tonight could finalize a parking restriction on Fifer Street to control traffic before and after school at Silas Willard. 
School employees discussed with the traffic advisory committee that parked cars on the south side of the one way street were encroaching on a lane of traffic. 
With the parking restriction the city will also restripe the road to create two lanes of traffic. 
Alderman have a ordinance on first reading regarding the regulation of transportation network companies, like Uber and Lyft. 
The ordinance would require a TNC to obtain a license from the city if they wished to expand into Galesburg at a cost of $1,500. 
Springfield also a $1,500 license fee compared to $3,000 in Peoria and Bloomington and $2,500 in Rockford. 
City staff have recommended council approve moving water, sewer and refuse billing from quarterly to monthly. 
Administration expects this will help cut down on delinquent bills but this will also means residents will get their water shut off for non-payment after 2.5 months.