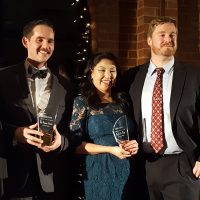 It was a night celebrating Change and Innovation in Galesburg businesses.

Last night was the Galesburg Area Chamber of Commerce's Annual Dinner .
Certified business and life coach Tammy Cook spoke on making changes in business and Chamber Chairman Jeannette Kleine passed the gavel to new chairman, Tom McIntire.
There also the matter of three business awards.
The Orpheum Theatre won the Non-Profit Excellence Award for upgrading their facilities, programming and promoting the arts.
Michelle Kim was named Chamber Advocate of the Year for her work with the Knox County Housing Authority.
Kim also recently became the new owner of Cherry Street Restaurant and Bar.
This award recognizes someone who has worked to grow chamber membership and promote business in the Galesburg area.
Kim told the crowd she was genuinely surprised.
"When you really care about what you're doing it isn't work and I genuinely mean that," Kim says. "I care a lot about the community and this really does mean a lot to me so thank you very much."
The Large Business Excellence Award went to Blick Art Materials. 
Vice Chair Stephen Browning says Blick has consistently supported the vision and growth of Galesburg and employs 500 in the area.