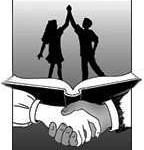 The District 205 board must approve any possible Reductions in Force before the end of February and they'll do that tonight.
A special meeting will take place at the board office on Harrison Street tonight as 12 teachers and licensed staff in District 205 could be RIFed.
One support position in 205 could be RIFed, as well as one licensed educator in Knox Warren Special Education as part of their own reductions and changes.
Those will be the only items on the agenda for the evening besides a closed session.
The teachers being let go are some of the lowest paid in the district, as is common since as RIFs are highly based on seniority.
RIFs don't necessarily mean jobs will be lost.
In theory any of these positions could be brought back for next year although in his District Revitalization Plan Superintendent Ralph Grimm recommended the reduction of 8 elementary teaching positions.