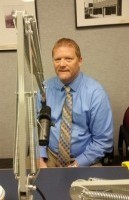 A partnership of organizations are coming together to generate enthusiasm around the manufacturing industry for high school students.
The Galesburg Area Vocational Center is hosting a "digital manufacturing showcase" on Friday from 10 a.m. to 3 p.m.
Over a dozen national manufacturers will be in attendance, set up like a trade show. 
At center stage will be a demonstration of the center's new SMTCL vertical machine center.
GHS Principal Jeff Houston tells WGIL that promoting digital manufacturing gives strong career options for students and brightens the economic outlook for the region.
"When they leave here they need to be career ready and be ready to go to work and there's no reason for them to have to leave this area," Houston says. "We need to stimulate this region here and use our own natural resources right here in-house and let those opportunities be known to our kids."
Houston says GAVC has gotten some $500,000 in donations of machines and $700,000 in other equipment and supplies. 
One of the companies with those donations is Pegasus Manufacturing.
Pegasus CEO Ray Whitehead says getting students and parents involved in today's world of digital manufacturing is the first step to bringing "manufacturing jobs" back to Illinois.
Carl Sandburg College recently approved two new certificates that are approved specifically for manufacturing needs in the area.