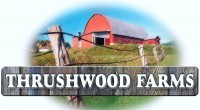 Vice President of Operations at Thrushwood Farms, Doug Hankes is now President Hankes.The American Association of Meat Processors is the largest meat-processing trade association in North America and Hankes will serve at president for the next year.
With headquarters in Elizabethtown, Pennisylvania, one of the things the organization does is advocate for and inform small to medium size meat processors around the country.
"I get to help develop government policy for our small and independent processors across the country," Hankes says. "We do a lot of things like fact sheets. We work a lot with our processors on nutrition labeling and for the small processor it's a big expense."
The AAMP is made up of 80 percent small and medium sized family businesses, similar to Thrushwood Farms.
They also try to direct scientific research to aid the local food movement, which looks for ways to better connect local consumers with local food manufacturers.
There are even companies in foreign countries that market products in the United States so they join the AAMP.
"The meat industry right now is in a great growth phase and so it gives us a lot of opportunity," Hankes says.
Doug is a part of the second generation of his family to run Thrushwood Farms that has been open since 1978.