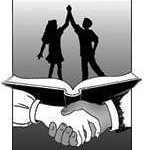 District 205 will get to work in hiring their new superintendent.
Ralph Grimm announced his retirement last week effective on June 30, 2017.
The Board of Education is holding a special meeting tonight to hear presentations from superintendent search firms.
After the presentations they will decide on which firm to hire to conduct a search for 205's next top administrator.
Some district stakeholders have on social media called on the board to not make a superintendent hire until after new board members are seated in April.
Whether they will or not remains unclear.
Grimm was approved in March when he was hired in 2015.
Previous superintendent Bart Arthur was hired mid-year, acting as Director of Curriculum before Gene Denisar's retirement.
The opening meeting will get underway at 6 p.m. at board office on Harrison Street.}