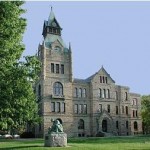 Authorities apprehended a Galesburg man on a warrant earlier this week for his involvement with an attack on another man in October.
Twenty-three-year-old Michael Bicknell has his first appearance with a public defender this morning in Knox County Circuit Court. 
Bicknell and 22-year-old Jared Rasso allegedly hit a 23-year-old man near South Cherry and Simmons Streets the night of Oct. 22. The attack left the man scraped and cut. 
A police report also alleged Rasso used a Taser on the man in a bar and near the street where the attack took place. 
Rasso was apprehended shortly after the incident but Bicknell was not found. According to booking records, Bicknell was arrested Monday at the Knox County Courthouse.
He is charged with aggravated battery and mob action. Bond was set on the warrant at $50,000. In October, Rasso faced the same charges, including an unlawful use of a weapon charge. His bond had been set at $20,000.