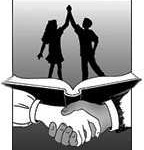 District 205 board members got a look at the tentative budget for FY17 last night and it looks like another year of deficit spending.
That includes $1.9 million in the red for the operating budget and about $4 million for the overall budget.
Superintendent Ralph Grimm says that progress has been made towards an eventual balanced budget but there's still "a lot of work to do."
"We've slowed down the flow of red ink, but we certainly have not eliminated it," Grimm says. "I want to say that it was not what we thought we'd do a year ago, to eliminate the deficit in one year, we've said overtime that it's going to be at least a two year process."
Grimm entertained the idea of another budget reduction process, like the one this last winter, which cut around $2.6 million in expenditures.
But the superintendent admits that he's not sure that personnel and programs can undergo more cuts without damaging the educational product.
Member Wayne Statham pointed out that where the budget is bleeding red ink is the line for Fire Safety and Prevention, projecting a $3.1 million deficit.
Statham takes this as a sign that buildings need to be looked at next, specifically how to use buildings and whether some buildings are too big of a resource drain.
District 205 still has about $20 million of work left in their 10-year Health Life Safety Survey.
Member Josh Gibb agreed with Statham saying the board had to view old things in new ways with personnel, "now we need to do that on the operational side in a more advanced way."